» Chicken Joe Forgets Something Important Book/CD Set
Chicken Joe Forgets Something Important Book/CD Set
ORDER BOOK/CD SET HERE - A new story and original songs from Trout Fishing in America and publishers -The Secret Mountain has earned a NAPPA Gold Award, is a Gold Medalist in the Moonbeam Awards and earned the Mr. Dad Gold Seal of Approval. Chicken Joe, the cat who sleeps in the hen house, is happily dreaming about rock and roll. A rooster's raucous crow wakes him up way too early. Everyone on the farm knows today is a special day, but in his sleepy morning haze, Chicken Joe can't remember just what it is. Even Joe's best friend, a city dog named Miss Kitty, won't tell him. Find out why this is Chicken Joe's big day!
$16.95
$15.00
You save $1.95 (12%)!
This is the BOOK with the CD in the back cover that includes a home video with Keith and Ezra talking about where they live, their inspiration for writing the songs on the album, and the instruments they used to record the music, plus a live version of the original Chicken Joe song performed in Ezra's treehouse. The CD also provides the illustrated story and lyrics as a printable PDF file.
Check out the MUSIC VIDEO from "16 or 17 Hours of Sleep"
1) Chicken Joe Forgets Something Important (Story)
2) Rock and Roll Roosters (Stream the mp3)
3) 16 or 17 Hours of Sleep   (Stream the mp3)
4) Hello, My Chicken Thinks He's a Dog
5) Through the Pines
6) For Me To Know and You To Find Out
7) The Fish Swim Backwards in the Sky
8) C-A-T in the H-E-N House
9) Where Did Everybody Go?
10) You've Got a Funny Name
11)Dance With Me
Here are some links to the reviews coming in. (Click on graphic)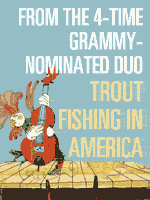 MORE REVIEWS
Metro Kids Top 10 CDs of 2011
The Review Broads "Their jumpy lyrics are wonderful for kids to dance and jump to, for the vocals are delivered with such enthusiasm and joyous raucousness, that I could not for the life of me stop jumping up and down! "
Susan's Disney Family blog
Technorati Entertainment page "The songs sparkle with wordplay and kicky music…"
"TFIA takes the lyrical vantage point of the most creative story-telling young pre-adolescent mind, while using their skills as some of the world's best musicians both vocally and instrumentally".  —The Current
"Children will love the fully illustrated story book that mom can read to them while they enjoy listening to the songs."  —Today's Woman Blog
SYNOPSIS
The animals we know and love all share a secret language and live mysterious lives that only a few of us know about. Chicken Joe Forgets Something Important, our second book/CD release for children, reveals just what's going on right under our noses. Nothing is as it seems on the farm where a cat named Chicken Joe and his friends live.
What did Chicken Joe forget? Turn the pages and find out as we read this story featuring many of our real-life animal friends. Then sit back and enjoy 11 new original songs from the 4-time Grammy-nominated Trout Fishing in America. If you're not familiar with our music, imagine two of the handsomest men you've never met playing the best songs you've never heard. Some of these words may be true.
Read More About Chicken Joe Forgets Something Important
Read More From the Publisher The Secret Mountain
Stream the Music
Hello, My Chicken Thinks He's a Dog
---
Free Shipping is 1st Class US Mail. You may choose Priority US Mail during checkout for an additional $6.95 or $13 for Canada Priority.
Priority Mail arrives within 2 or 3 days after we send shipping notification. If you need overnight or 2nd day air shipping, please call toll free 479-761-3630 to place the order between 10am and 4pm CST, Mon-Fri to guarantee it will arrive on time.
Detail Name 1: