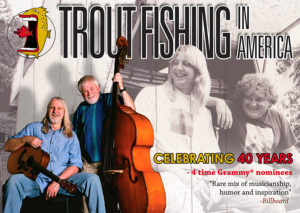 Happy New Year!
It is officially 2019. Today marks exactly one month since Keith had his right hip replaced. He's walking around the Trout House without a cane, without a walker, without pants. OK, we're exaggerating here. He's wearing sweat pants. We're back at work and that feels great: so many things to do and so many things to tell you about.
Let's start with the Epic Theater on Saturday January 19th. The Epic is a brand new multi-million-dollar community facility in Grand Prairie, TX. It is truly incredible. Besides a state of the art performing arts center, there is an enormous indoor water park, exercise facilities and classrooms for continuing education. Trout will record a live album from our two performances. Both shows are free to the public. You do need a ticket and you should consider getting one sooner than later because the first show is nearly sold out. That's impressive until you realize the show is free. Actually, it is impressive. We want to fill both concerts up! It's an experience you don't want to miss. Bring the whole family; this is going to be a show for everybody.
A week later, we're going to be at the Greenwood Performing Arts Center in Greenwood, AR just south of Ft. Smith. Ezra remembers going to Greenwood to watch his children play basketball in an incredible high school gym. The Prairie Grove Lady Tigers got whipped by the Ozark Lady Hillbillies. Dana, Ezra's daughter, came out of the game saying, "that girl plays like a man!" We promise to play like men too when we come to play music at the Greenwood Performing Arts Center!
Our shows in 2019 will be centered around celebrating 40 years of Trout. It's almost impossible to imagine that we've been doing this that long. We've driven or flown well over a million miles. We're back in the all new Trout House studio recording a retrospective that will include music from our entire career. We're recording the project as a duo. What you hear when you come to our shows will be what you hear when you listen to the recording. We're staying home for the month of February to put the finishing touches on it as well as work on the new Wheatfield album.  You can always check our calendar to find out where we're headed.
Troutfully yours,
Keith and Ezra