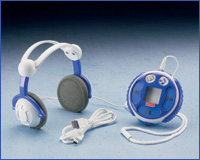 Trout Fishing's music is now available for download from the brand new Fisher-Price Song & Story Online Store!! It's like an "i-Tunes" for kids! You can download your child's favorite tunes and stories onto their Fisher-Price Kid-Tough FP3 Player. It's like a kid's MP3 player, but it's made by Fisher-Price, so it's really fun and made just right for kids ages 3-8. It has simple controls and a durable drop resistant design so it stands up to rough preschooler use.
Just like i-Tunes you add content to your Kid-Tough FP3 Player by downloading songs and stories from today's popular children's artists and authors from the safe, user-friendly Fisher Price Song & Story Online Store – the first online store of its kind to specifically offer only child appropriate content!
For those of you who own a Fisher Price Kid Tough Song and Story Player, we'd like to let you know that three Trout Fishing albums are available for downloading: My Best Day, inFINity and our Christmas album, Merry Fishes To All.  All three are Grammy nominees.
No player yet? Check the new Fisher-Price Kid Tough Music Player with microphone. Your kids can sing along!