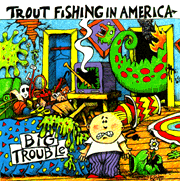 Trout Fishing in America knows what it's like to fear getting into Big Trouble because monsters came over to play. This and more than a dozen other childhood experiences are chronicled in Big Trouble, and award winning album from the four time Grammy nominees.
When I Was A Dinosaur
Big Trouble
The Cat Came Back
I Think I'll Need A Bandaid
What I Want Is A Proper Cup of Coffee
The Window
Pico De Gallo
Nobody
We Are The Dinosaurs
Day Care Blues
Teddy Bear's Picnic
Lullaby
Credits
Produced by Karl Caillouet, Keith and Ezra.
Released in 1991
Awards
Honorable mention for INDIE Children's Album of the Year. (AFIM)