If you would like to contact Kids Place Live on Sirius/XM Radio to request your favorite Trout Songs, send an email or call toll free 866-328-2345.
Update to this post Fall 2011:
The Trout's were thrilled to visit Kids Place Live to sing songs and tell the story from their new book/cd "Chicken Joe Forgets Something Important" published by The Secret Mountain. It's always fun in the Rumpus Room performing live with an audience of kids of all ages! A fan sent us this photo with Robbie Schaefer introducing Keith and Ezra.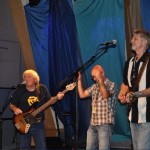 Fall 2007 – Trout Fishing visited Sirius and XM Satellite Radio stations to record some new songs that are not yet available on CD or as downloads. They visited with Mindy at XM (pictured below) and recorded a Live in the Rumpus Room concert that aired over Memorial Day Weekend. At Sirius radio Trout recorded a set of songs live that the station will play throughout the year.